Hay/Straw & Livestock Results
Hay/Straw & Livestock Results Lansing MI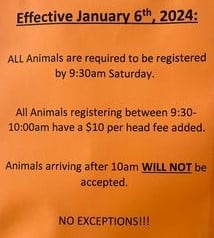 Hay/Straw/Small Animal/Livestock Auction 
                                             EVERY SATURDAY
                                          Hay starts at 10:00am
                                            Animals at 11:00am
11/25/2023
Item
Quantity
Price
Square Hay
538
$6.00-$11.50
Round Hay
62
$62.50-$80.00
Square Straw
25
$4.00 each
Wood
17
$20.00-$70.00
Oats
10
$12.00 each
 Chicken Eggs
72
$1.00-$1.25
Chickens
52
$3.00-$26.00
Ducks
5
$11.00-$12.00
Guinea Hens
1
$16.00 
Pigeons
16
$2.00-$5.00
Quail
4
$11.00 each
Rabbit
1
$3.00
Goats 
4
$60.00-$105.00
Horse
1
$550.00
Cattle
3
$275.00-$425.00
Check back to view the latest hay/straw & livestock results from Geyer Farm & Auction Service!
Drop off times for Hay/ Straw Thursday, up until Saturday at 9am. Livestock drop off Saturday between 8am-9:30 am. After 9 am for Hay and 9:30 am- 10 am for livestock on Saturday there will be a $10 late fee.
No animals after 10 am will be accepted!
NO EXCEPTIONS!
For more information, call Mid-Michigan's leading auctioneer at (517) 655-6343.
Primary Communities Served
Williamston
Lansing
Fowlerville
Owosso